January 10 - March 14
Sundays, 4:00-5:30pm MT + optional Kirtan following class 5:30-6:30
Attend live on Zoom or watch the videos
10 Week Course sliding scale: $699-899
Payment plan available!
Includes:
*Ten weekly LIVE lessons with Allison Dennis and lifetime access to the class video recordings  
*Heart of Yoga School Chant Book: a fully transliterated chant book with mantras and chants
*Lifetime access to the Music Library with over 50 video tutorials and instructional charts: this exhaustive library has been compiled and organized for the past year and you will be chewing on this material for years to come as you build your repertoire of chants. Additional chants will continue to be added.
*Indian Music Satsang and Q&A with K. Sridhar: 2/10, 3-5 MT
*Sanskrit satsang and Q&A with Prem Sadasivananda: date and time tba
*A talk on Reverence, Indian Music, and Gurus with Dr. Robert Svoboda: date and time tba
Optional private session add-ons:
*Weekly or monthly private harmonium and sanskrit tutoring sessions with Allison for as little as $30-50 half hour. Instructions for booking sessions will be provided upon purchase of course.
Who is this course for?
*Brand new beginners
*Anyone who wants to learn to read the charts in the School of Shakti Music Library
*Westerners who want to bring more of India into their mantra or kirtan practice
*Mature and interested children, with some musical background, who want to learn kirtan music
*Those who love kirtan and want to be in satsang to deepen their understanding of kirtan music
Course objectives:
*To learn one simple sanskrit chant on the harmonium and understand it's raga (what scale it's in), tala (rhythm), melody, pronunciation, meaning, and how to read the transliteration.
*To develop a shared vocabulary around Indian music and bhakti yoga, the yoga of love and devotion.
*To be open to and sensitive around how not to culturally appropriate Indian wisdom systems and religious practices. Understanding the culture helps you understand the concepts. We will collectively endeavor to understand this music as it is relative to India; her daughter so to speak.
*To better understand your voice and know what key you are most comfortable singing in
*To be introduced to a variety of traditional practices that are effective neuroplasticity exercises that increase focus and uplift the mind
*To better understand your loving nature as your core values are enlivened through singing.
*Upon completion of this course, participants will be able to navigate the Music Library and have the tools to comprehend the content
An Ocean of Sound:
Indian music is a vast ocean of sound and mysticism. I have but a sip, a drop that somehow entered my heart and started expanding through the guidance of my dear teachers. The drop I possess is an inexhaustible source of personal inspiration and healing meant for sharing. Based on my practice and experience, I believe this introduction will send your heart down paths of revelation and discovery. If this one drop of ocean I have isn't shared, it dries up for me, for you, and for the whole world. And so it goes. 
Studying Indian music and sanskrit is like ascending a ladder up to the ancient mind by way of old sound wisdoms. We may be more technologically advanced from our ancestors, but their wisdoms are enduring, earthy, and rely on an ongoing interest in connecting to something bigger than the small self and the ego. 
Indian music teaches how to listen and, for an already developed Western ear, it teaches us to listen differently in so many ways. What better medicine could we give the planet right now than the willingness to switch frequencies, listen, and be lifted up through our immersion in this ocean of sound?
What is Indian Music?
A math of emotion, Indian music weaves a sonic web that creates a somatic experience. A raga is a song, a story, or improvisation built on a foundation of notes. Tala is time, rhythm, or the field which gives the song her existence. Mixed around in this milieu of sound also lives the alluring shrutis, the notes in-between notes. Songs are expressions of desire colored by the sound of distances, just like our longing, grief, and elation. Indian music fills in empty spaces, vibrates, and has a direct effect.
What is Sanskrit?
Sound and oral transmission were highly revered in ancient India, and the Sanskrit language is a language built on the premise that sound is the meaning, it is the object itself. The religious texts of Hinduism, Jainism, and Buddhism are all in Sanskrit. This is not a language of semantics where the word implies the meaning of something. Instead, Sanskrit is a language where the sound itself creates the meaning. Pronunciation is important as we want to create the vibrational meaning we intend.
What is a Harmonium?
The harmonium is a French instrument developed in the 1840's by Alexandre Debain. It was adopted by Indians and Middle Easterners because of its vibratory nature. Essentially a pump organ, harmoniums have reeds that create tones when air blows through. Unlike the voice and the stringed instruments common in Indian classical music such as the sarod and sitar, harmoniums can not create shrutis, the notes in-between notes. 
How do I buy a harmonium for the course?
Please email my friends in Chennai, Tamil Nadu, India at: [email protected] and mention that you are taking a course with K. Sridhar's American student Allison. Ask Saptaswara Musicals about their money back guarantee if the instrument arrives damaged. I suggest a double reed harmonium without a coupler. At least seven stops. You don't need anything fancy. With shipping it should cost $500-ish.
Who are the guest speakers?
I would have nothing to share of any import on the matter of India's music were it not for my teacher K. Sridhar, a descendant from 14 generations of Temple musicians. He has the rare distinction of being a master of the two classical music traditions that co-exist in India, that of the North (Hindustani) and that of the South (Carnatic). At the age of five, he began his training on the sarod under the guidance of Ustad Zia Mohiuddin Dagar and at the age of 12, K. Sridhar became the youngest member ever of Ravi Shankar's orchestral group. K. Sridhar has opened my heart to the medicine and vibrational reconstruction that can take place by way of Indian music and the teacher/student relationship. He will be offering at least one Q&A session for students about Indian Music.
Prem Sadasivananda is a scholar of Vedantic Philosophy, Hindu Scripture and Sanskrit, and was the main teacher in my very first yoga teacher training. His buoyancy, giving nature, and friendly approach made me think maybe I could be a yoga teacher? I liked seeing how others felt when they were around him, and without him the seed may not have been planted this lifetime to have such affection for Indian arts and wisdoms. Prem Sadasivananda started his path in the Sivananda Organization where he served for over 24 years as a sannyasi. He served as the Director of the Sivananda Center in New York City from 2003 to 2014 and the London Center from 1990 to 2003. Prem will be offering a talk on the glories of the Sanskrit language and answering questions directly from the students taking the course.
Dr. Robert Svoboda sparked a curiosity back in my very first YTT in 2005 with Prem around alternative healing. He is the first Westerner ever to graduate from a college of Ayurveda and be licensed to practice Ayurveda in India. He was tutored in Ayurveda, Yoga, Jyotish, Tantra and other forms of classical Indian lore by his mentor, the Aghori Vimalananda, and is the author of twelve books including Prakriti: Your Ayurvedic Constitution and the Aghora series, which discusses his experiences with his mentor during the years 1975 – 1983. He has become a teacher and also a mentor around how to hold and share Indian wisdoms as a reverent westerner. Dr. Robert is like the tantric Mr. Rogers, there's a wholesomeness to his wisdom, this grounded quality that inspires me to be friendly, keep going, and to be grateful for what I have because "it could always be worse".
Available in days

days after you enroll

Introduction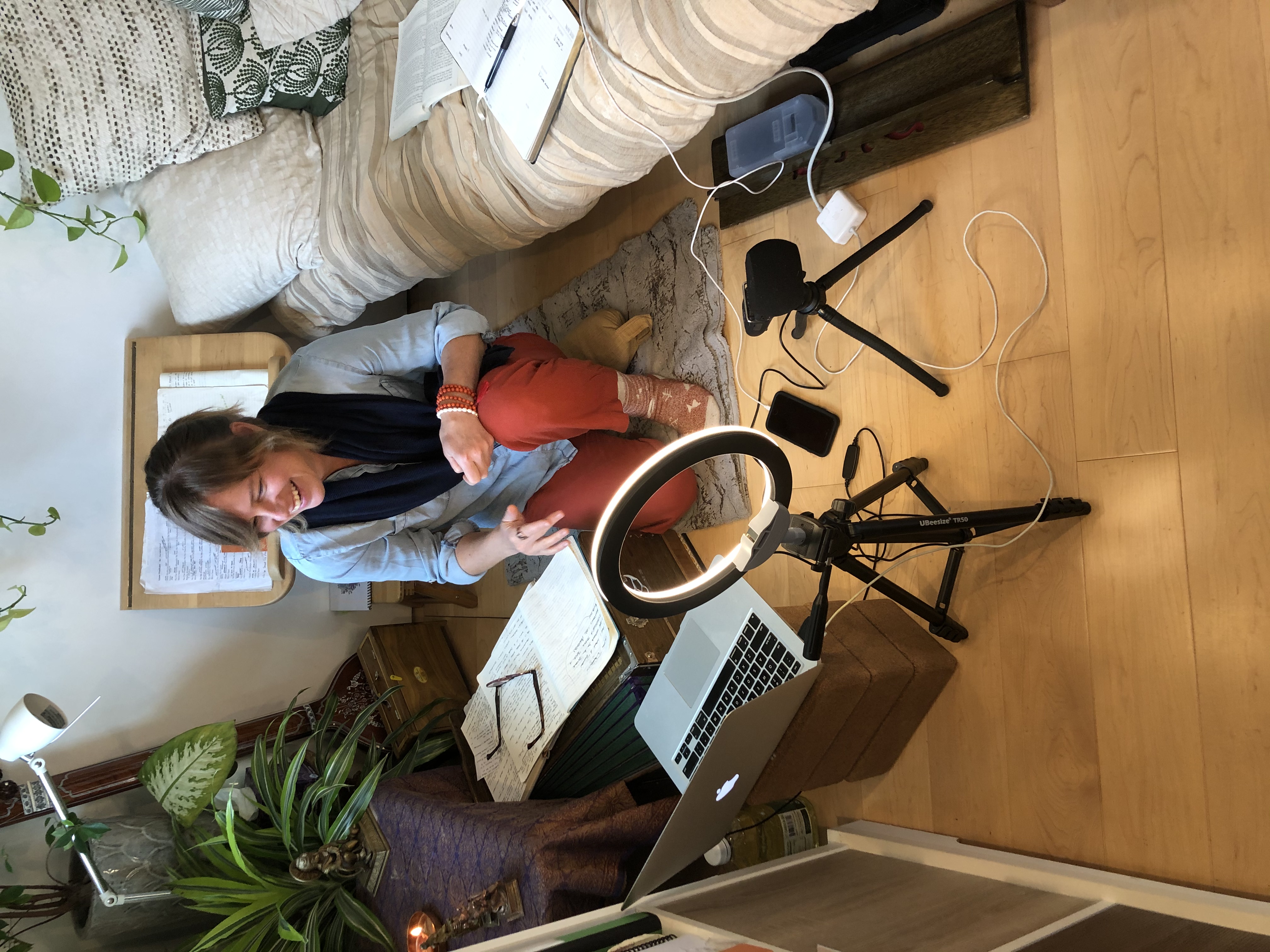 Allison Dennis holds a BFA in Musical Theatre with a Minor in Music from ECU where she studied Sanford Meisner's acting technique. She sang in jazz, funk, and folk bands, recorded and performed as a singer-songwriter, and performed supporting and leading roles in a variety of plays and musicals. 
In NYC at the turn of the millenium, she acted and sang in Off Broadway shows, and ultimately flew in the wildly popular Argentine circus De La Guarda. A back injury during a show brought her to yoga in 2001. 
A herniated disc with nerve impingement made movement quite painful for the first three years of the injury, so her entry point to yoga was the philosophy of India, not the poses. She concentrated on Patanjali's Yoga Sutras for a decade while becoming a yoga asana teacher as therapy for her own physical pain. Once mobility returned, Allison was finally permitted by her physical therapist to take on an asana practice. Within months she had signed up for her first Yoga Teacher Training in 2005.
From 2010-2018 Allison owned and operated Heart of Yoga School out of Carrboro, NC where she designed and taught three distinct yoga teacher trainings, culminating in a full 800 hour YTT program. She led nineteen long-term trainings while managing the School, guiding curious seekers to become teachers and home practitioners. 
She also spends 2-3 months a year in India, deepening her understanding of the culture and wisdom systems.
Visit www.allisondennis.com for more info and to learn about her tours and retreats in India and Indonesia.