Links to join live here

Next Class: Sunday, 12/13, 5pm MT, New Moon in Jyeshtha Nakshatra, Full Solar Eclipse
Exact New Moon: 9:16am MT 12/14
Plug into lunar feminine cycles. We'll talk about the astrological configuration of the day with emphasis on the nakshatra or star where the moon is located, the deity and mythology of the star, and the song or raga attached to the star. Knowledge of the songs relative to the star is being relayed from my teacher, K. Sridhar. A Spotify playlist with the raga/song, will be sent.
Indian music, the math of emotion, aligns the subtle body by way of listening well. The connection between the star where the moon is and the associated song can bring us back to center. Back to authentic being-ness. Back towards dharma or purpose.
*************************************
*Satsang Logistics - Each Satsang will be held LIVE on Zoom close to the time of the New or Full Moon. Specific times will be announced closer to each Satsang, and the link to the Zoom meeting will be accessible on Allison's homepage, www.allisondennis.com.
Spotify playlists will be sent during the satsang in the Zoom chat window. 
You can watch the video later from the Teachable portal.
*Discussion about the current moon cycle with suggestions around how to optimize the potential of the Moon's position and guard against potential potholes and blindspots.
*Mythology associated with the star. Each star is associated with a Vedic story that refers to our own evolutionary process. The stories are a unique medicine, with practical remedial inspiration for us to discover.
*Home practice to the song associated with the star: I will suggest practices to do on your own using the playlist provided.
2020 New and Full Moon Calendar:
Solar Eclipse: New Moon in Jyeshtha: Monday, December 14
Full Moon in Ardra: Tuesday, December 29
2021 New and Full Moon Calendar:
Visit my Sidereal Zodiac Cosmic Calendar for planetary events including New and Full Moons
Course Curriculum
Available in days

days after you enroll

Satsang Recordings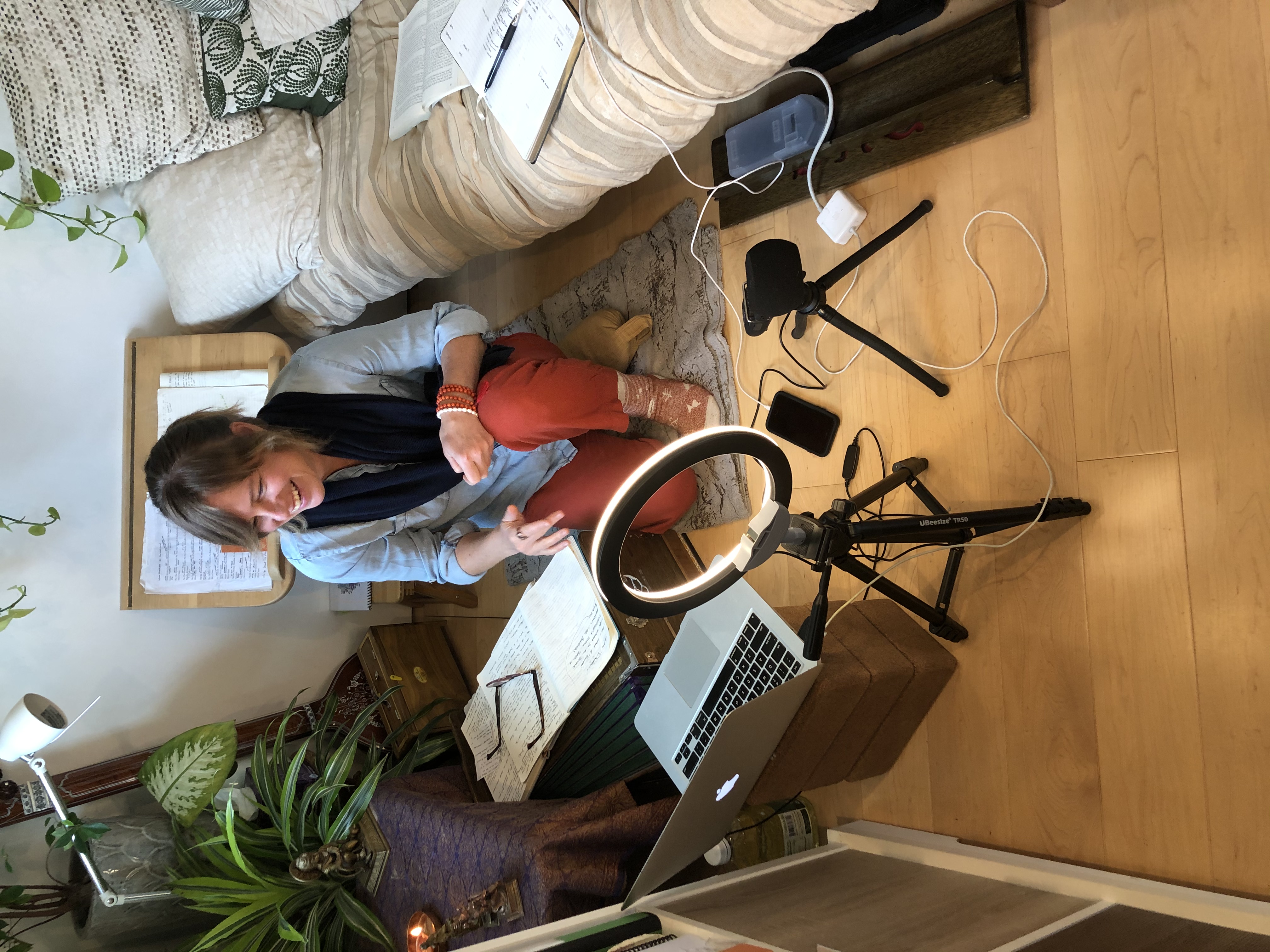 Allison Dennis holds a BFA in Musical Theatre with a Minor in Music from ECU where she studied Sanford Meisner's acting technique. She sang in jazz, funk, and folk bands, recorded and performed as a singer-songwriter, and performed supporting and leading roles in a variety of plays and musicals. 
In NYC at the turn of the millenium, she acted and sang in Off Broadway shows, and ultimately flew in the wildly popular Argentine circus De La Guarda. A back injury during a show brought her to yoga in 2001. 
A herniated disc with nerve impingement made movement quite painful for the first three years of the injury, so her entry point to yoga was the philosophy of India, not the poses. She concentrated on Patanjali's Yoga Sutras for a decade while becoming a yoga asana teacher as therapy for her own physical pain. Once mobility returned, Allison was finally permitted by her physical therapist to take on an asana practice. Within months she had signed up for her first Yoga Teacher Training in 2005.
From 2010-2018 Allison owned and operated Heart of Yoga School out of Carrboro, NC where she designed and taught three distinct yoga teacher trainings, culminating in a full 800 hour YTT program. She led nineteen long-term trainings while managing the School, guiding curious seekers to become teachers and home practitioners. 
She also spends 2-3 months a year in India, deepening her understanding of the culture and wisdom systems.
Visit www.allisondennis.com for more info and to learn about her tours and retreats in India and Indonesia.