Monthly Satsang
Live + Recorded: Monthly event
Currently taking place on the last Friday of the month, 7:00 - 8:00pm ET


Subscription info, is below. If you subscribe you are automatically sent the email to attend live as long as you 'opt in' to emails.
Join Allison in 2022 for a Monthly Satsang! Expected topics are (being) listed below. Email Allison here and submit any topics you'd like to connect about in 2022.
This is a great way to stay connected and support Allison's research and studies on the topics of nature, myth, music, and love.
January: Life as an Art Project
February: Wonder and Faith
March: Srimad Bhagavatam: the Stories of Krishna
April: Kaivalya: I Am Loving Awareness
May:
June:
July:
August:
September:
October:
November:
December:
What is a myth?
According to Joseph Campbell a myth has four functions:
to inspire a sense of awe
to explain the origin and nature of the cosmos
to support the social order
to awaken individuals to their own potential, especially in the spiritual domain
A myth is a window. A story told anew through the ages, but how you hear it, the way it hits you or fills you with wonder and inspiration, that is the power of myth. It's potency lies in the moment you are struck , and the moments that follow where you re-organize because some principle, some value shown through in such a way that you understand something you couldn't quite put your finger on before. Myths illustrate meaning, and Indian mythology is a veritable sea of anthropomorphised archetypes of our own psyche. We are each of us the hero, the villain, the dutiful friend, and the beggar. Like a soap opera of Marvel superheroes from a land that once was but never has been, Sacred Soaps will take you on a bendy story-telling hayride through ancient India.
Join me for a monthly story about one or several of the deities from India, and do feel free to send requests to [email protected]
What is Kirtan?
Kirtan is call and response chanting, usually in the Sanskrit language. It is one of the main practices of Bhakti yoga; the path of devotion and love. Bhakti yoga is a rich practice that arises after the Vedic era In India. Singing these vibrations typically coincided with story-telling practices and sometimes even in tandem with dance and/or visual arts. Singing and hearing stories focuses the mind, helps tension lift to the surface and allows it to dissipate; subduing the emotional storms. 
Why is Kirtan practiced?
We're constantly vibrating with some thought or sound with varying degrees of intentionality and/or unconscious patterning. Some vibrations allow for harmony and resonance. Others create dissonance, impeding our ability to vibrate authentically. 
Kirtan creates an uplifting vibration for the mind to swim in, enabling deeper states of peaceful awareness in our day to day lives. 
How is Kirtan beneficial to the modern yogi?
Collectively, we can benefit from utilizing more tools that transform our internal resonance by way of sublimating the raw emotional material that causes inner disturbance. Kirtan is one such tool, revealing directly our essential nature by way of sound. This practice clears the path from heart chakra to throat chakra, allowing our hearts and voices to shine authentically, expressing both confidence and vulnerability in cleaner and clearer ways.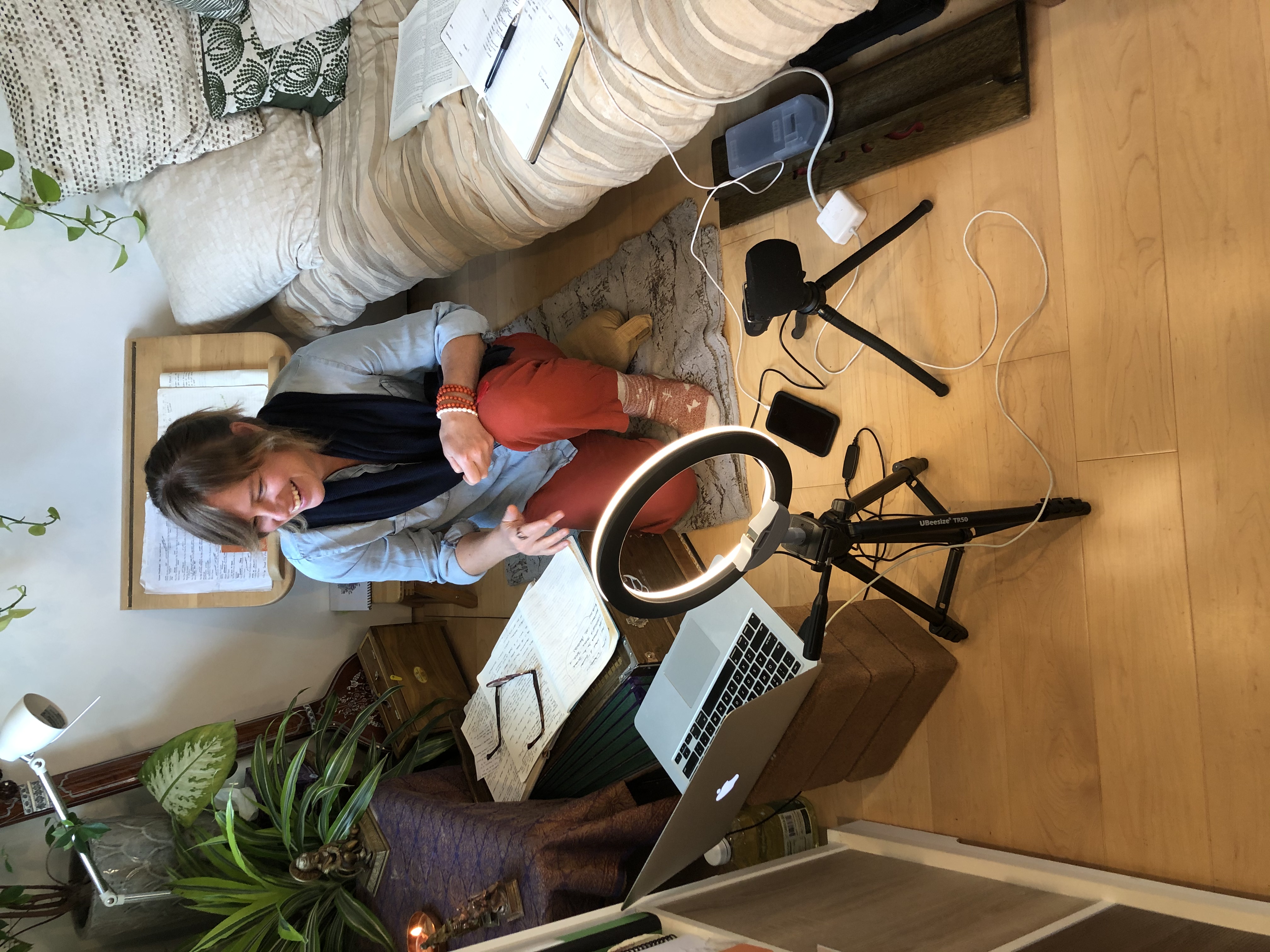 Allison Dennis holds a BFA in Musical Theatre with a Minor in Music from ECU where she studied Sanford Meisner's acting technique. She sang in jazz, funk, and folk bands, recorded and performed as a singer-songwriter, and performed supporting and leading roles in a variety of plays and musicals. 
In NYC at the turn of the millenium, she acted and sang in Off Broadway shows, and ultimately flew in the wildly popular Argentine circus De La Guarda. A back injury during a show brought her to yoga in 2001. 
A herniated disc with nerve impingement made movement quite painful for the first three years of the injury, so her entry point to yoga was the philosophy of India, not the poses. She concentrated on Patanjali's Yoga Sutras for a decade while becoming a yoga asana teacher as therapy for her own physical pain. Once mobility returned, Allison was finally permitted by her physical therapist to take on an asana practice. Within months she had signed up for her first Yoga Teacher Training in 2005.
From 2010-2018 Allison owned and operated Heart of Yoga School out of Carrboro, NC where she designed and taught three distinct yoga teacher trainings, culminating in a full 800 hour YTT program. She led nineteen long-term trainings while managing the School, guiding curious seekers to become teachers and home practitioners. 
She also spends 2-3 months a year in India, deepening her understanding of the culture and wisdom systems.
Visit www.allisondennis.com for more info and to learn about her tours and retreats in India and Indonesia.